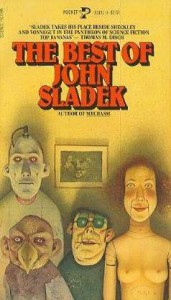 I waffled a little between four and five stars as the writing wasn't always perfect, but there wasn't a moment I wasn't entertained by this wonderfully weird collection so I decided to be generous. Sladek's short stories are just delightful. They're at turns absurd, random, hilarious, poignant and prophetic. Rarely does a written work make me guffaw, but this one did in several spots.
Among my favorite of his original stories were "The Happy Breed," which had a lovely sort of melancholy as its characters were stripped of their intelligence by mechanical overlords; "1937 A.D.!" a nice, trippy time travel story; "The Steam-Driven Boy," another trippy time-travel story; "Elephant with Wooden Leg," a celebration of insanity, anarchy and revolt (I never did trust those cockroaches); "The Locked Room," a parody of detective fiction that tickled my fancy; and "The Face," a grotesque and sad rumination on fanaticism.
Brief thoughts on a few others among his original stories:
"The Secret of the Old Custard" - Like Orwell on acid. Wonderfully absurd acid.
"The Poets of Millgrove, Iowa" - I meandered through this story thinking, "I've been to this town. I've covered this event." Then I got to the Astronaut's speech and laughed my f**king ass off. F**king A.
"The Best-Seller" - Entertaining. Dizzying.
The Parodies were equally delightful and mostly pitch-perfect. The Ray Bradbury parody "Joy Ride" was especially good, I thought. "Broot Force," his Asimov parody, and "Engineer to the Gods," his Heinlein parody, also were highlights, but perhaps because of the authors he chose to parody, those are the ones I know best.
The puns on authors' names are not to go without praise. "Iclick as-i-move" and "Chipdip K. Kill" got chuckles from me.
I'm glad a friend chose to introduce me to this author's works. I'll certainly keep my eye out for others in the future.